20 Most Promising Telecom Technology Solution Provider - 2018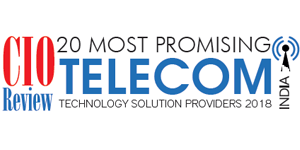 Technological advancements have enabled new and enhanced services to be delivered to users. And this time we are talking about the Telecom Technology market. Evolving from bulky wired hard lines to mobile devices which are now a basic need, the telecom industry has been at the centre of many disruptions. while the world is bracing itself for the advent of 5G, the focus will remain on faster and stronger networks. The cloud will be the key here, bringing in the potential to deliver quality rich, more flexible and scalable enterprise IT services at lower cost. In addition, with massive investment in Internet of Things (IoT), the telecom technology market is gearing up to support the massive growth in data volumes that will be generated through the billions of new connected devices which are, at present, making their way into the market. However, for IoT to really yield the desired results, broadband will be imperative.
The current telecom technology market landscape is characterised by cut throat competition as more and more innovative solution providers continue to dive into this segment year on year. With the aforementioned trends in view, CIOReview India brings to you the list of "20 Most Promising Telecom Technology Solution Provider 2018". A distinguished panel of CEOs, CIOs, industry analysts and the CIOReview India Editorial Team have closely scrutinized and nominated the vendors who have captured our attention with their relentless drive for excellence and domain expertise, closing in the various gaps while enabling organizations to usher in an environment of enhanced communication and collaboration.
We present to you CIOTechOutlook 20 Most Promising Telecom Technology Solution Provider - 2018.
Top Telecom Technology Solution Provider
| | |
| --- | --- |
| Arbeit IT Consultancy | Provider of software, engineering and operations services |
| Aria Solutions | Provider of contact centre and customer engagement services |
| Aspect | Provider of customer care services to telecommunications companies |
| ATDI | Provider of sophisticated communications electronic warfare planning tools |
| Bluerose Technologies | Provider of solutions for customer centric industry |
| CHR Solutions | Provider of telecom software solution for service |
| Conjoinix | Provider of software and product development for networking and telecommunication industry |
| Globe Teleservices | Provider of International Wholesale, Enterprise and Retail solutions and communication service provider worldwide |
| HL eNovateur Technologies | Provider of Telecom solutions including Mobile VAS on SMS, USSD, IVR & WAP and Platform management solutions |
| Inventum | Provider of products and technologies for fixed and wireless data networks |
| Mahindra Comviva | Provider of products and services for mobile end subscribers |
| Mowlabs Telecom and IT Services | Provider of mobile value added services (M-VAS) |
| Nexge Technologies | Provider of NGN, VoIP, SMS, VAS based platform for Telecom service providers |
| Pyro | Provider of telecom solutions to MNOs and Telcos |
| Ramboll | Provider of Telecom solutions like tubular towers, low foot print towers, elevated platform towers, solar and windmill structures, rapid deployment solutions, monopoles and camouflaging solutions |
| Sanctum Networks | Provider of an Integrated Internet management tool for Residential, Small and Home Offices |
| Sicap | Provider of real-time data analytics and device management solutions |
| Tanla Solutions | Provider of A2P monetization solutions |
| Tech Venture Groups | Provider of electronic devices, SIM, Dongle and other telecom servies |
| Telestax India | Provider of communication application |