20 Most Promising Telecom Solution Providers - 2016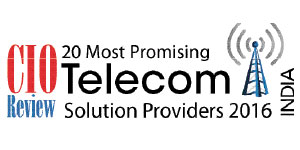 India, the second largest telecom market in the world crossed 1 billion subscriber mark in 2015.The interplay of government initiatives such as Digital India, Smart City Project, payments banks, Make in India and the roll-out of 4G LTE services that are intended to create a platform for exponential growth of M2M (machine-to-machine), cloud, Internet of Things (IoT), analytics and big data; lead Indian market to massive growth of voice, data and video. Moreover the spectrum auction saw intense competition and fetched the government Rs.1.09 trillion for 418 megahertz (MHz) of spectrum. But with dynamic policy changes, Indian Telecom industry faced major challenges of call drop and quality of service in 2015.
A major challenge facing the industry today is ensuring that telecom organizations are leveraging the correct infrastructure for optimum functionality. As more customers utilize different devices for voice communication and Internet access, service providers need to address growing data needs. Telecommunication organizations must analyze their existing infrastructure and make changes where necessary to expand their capabilities and meet rising data usage demands. For telecom companies, the agenda is challenging. But they can't avoid taking on these fundamental realities of their industry if they are to maintain and profit by their central role in the digital economy. Early digital initiatives have been scattershot, and many telecom companies have learned that they must take a more focused approach in determining which digital products and services to offer if they are to capture real opportunities in adjacent businesses and broader digital ecosystems.
Having interacted with several business leaders and market analysts from Telecom background, we at CIOReview have realized the need to identify the best and most promising Telecom service providers who have vast knowledge and deep expertise in the solutions and services demanded by telcos. We present to you the list of '20 Most Promising Telecom Solution Providers' that intends to help you choose the apt solution provider for your unique business needs. A distinguished panel comprising CEOs, CIOs, CXO, analysts and CIOReview editorial board audit various Telecom Solution providers before presenting the Top 20 List.
We present to you CIOTechOutlook 20 Most Promising Telecom Solution Providers - 2016.
| | |
| --- | --- |
| Algoworks | A provider of Mobile App Developers, Salesforce Consulting & Customization, ECM Consulting Services, Alfresco Consulting and Customization . |
| Avhan Technologies | A provider of Cloud IVR Solutions, Call recording Solutions, Mobile VAS applications, Unfied Contact center platform. |
| Avissol | A provider of Contact Center Solution, Telecom Solutions, Predictive Dialer, Online promotion SEO,SMO & PPC and Mobile Application Development. |
| BlueRose Technologies | A provider of Network Resource Management using UIM, Network Integrity (NI) tools, Data Warehousing, Data Mining, OLAP tools, Web Services, Service Bus, MDM tools. |
| Clay Telecom | A provider of Global Prepaid SIM Card, Global Email Services, Country-specific & World Data Cards, Country-specific and Global Mi-Fi Services. |
| Inkarp Telecom | A provider of Voice, Data & IT Security, Structured Cabling, Audio/Video Conferencing and Wireless LAN Solutions. |
| Isolve | A provider of Business Process Management, Complaince Audit & Verification, Web Based Workflow system, Process Consulting & Service Delivery and CAF Management for Telecom. |
| MasterCom | A provider of System Integration & Outsourcing services in Telecom OSS, BSS and IT Domains. |
| mCarbon | A provider of Value Added Service Solutions, Mobile Social Community Solutions, Customer Lifecycle Management, Customer Experience Management and Managed VAS. |
| OnMobile | A provider of content management, content aggregation & distribution, voice short codes, missed call alerts, multimedia push services and mobile search. |
| Plintron | A provider of Cloud Communication Platform (MVNE), Network Sub systems (NSS), Business Support Systems (BSS) and Operations Support Systems (OSS). |
| Prodapt | A provider of IT solutions for Communications Industry, OSS/BSS, NMS offerings, M2M, IoT Offerings, DevOps & Remote Infrastructure Management and Business Process Services. |
| Pyro Telecom | A provider of Network Services, Network Solutions, Roaming suite, VAS, Hub, MCommerce, radio Network Solutions, Network operations & maintenance and Dynamic Sim Allocation Systems. |
| RSystems | A provider of covergent charging, Mobile Broadband Management, MVNO in a box, Value Added Services, Core Network Systems and Mobile Applications. |
| Sify Technologies | A provider of fibre broadband, Network management, Managed Services, E Learning, VOIP, DataCenter, SAP partner, application services, IaaS, PaaS and SaaS. |
| Six Dee Technologies | A provider of Messaging Suite, Payment & Commerce Solutions, MVNO/MVNE platform, Billing & Mediation solutions, Service Delivery Platform, Customer Care Solutions and Call Management products. |
| SoftDive | A provider of Domain Booking and Hosting, Web Design & Portal Development, Code Backups and Database Backups. |
| Sterlite Technologies | A provider of Telecom products for data transmission, Telecom Infrastructure, Power Transmission and Distrubution, and Power Infrastructure. |
| Tarantula | A provider of field force solution, consulting services, implementation services, hosting, site inventory management and site access management. |
| Velankani Softwares | A provider of Network management, Testing, Wireless, Network Access technologies, Telepresence/ Video/ VoIP, and Network Planning. |